Outdoor Events
---
We highly recommend you reserve tickets in advance and sign waivers in advance as space will be extremely limited for these sessions.  By reserving and paying online, you can take advantage of our touchless registration, waivers, and payments. We can have a maximum of 15 players for outdoor laser tag sessions. Be prepared to have your group divide up into two teams.
OUTDOOR Laser Tag  Open Sessions (ages 7+):
Monday-Friday Reservation Only with groups of 10 or more
Saturday- 4:00pm-5:30pm
Sunday- 4:00pm-5:30pm
***** If you wish to book a birthday party or group event within 48 hours or less of the desired date, please contact us BEFORE placing your reservation *****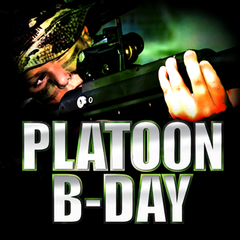 Platoon Birthday Party (Outdoor laser tag)
2 hour package includes: •4 + missions (approximately 90 min of battlefield time, which includes gearing up and de-gearing time) •Online invitations •Includes 10 players. $23.00 + tax for each Additional player• $50 deposit•For ages 7 & up•
You are reserving tickets during a PUBLIC time slot. You will have to pay for 10 players regardless if you have 10 show up.