Axe Throwing
---
Here's How It Works 
We are very excited to be adding Axe Throwing to our list of action-packed activities! When you first arrive you will be greeted by one of our field marshals (referees) who will check you in and walk you through everything you need to know.
Whether you want to try something new or hone your axe throwing skills our facility is the best option in Fayetteville. Bring your family and friends with players as young as 13 that can participate in our lanes.
We provide everything you need. You will just need to make reservations, wear closed-toed shoes and come in ready to have fun!
Play Safe!
Safety First! Before you can participate each player will need to sign a waiver which can be done in advance or upon arrival. Once a waiver has been signed and you check in at the counter then you and your group can head upstairs. Upstairs you will be greeted by one of our field marshals who will instruct you on how to safely throw your axes and monitor your games. By following our rules and exercising common sense you will enjoy a safe and fun experience at Modern Mission.
We highly recommend that you reserve your event in advance as space is not guaranteed for walk-in players. The minimum size group is 4 per lane with a maximum of 10 per lane.
The minimum age to play is 13 however, anyone under 18 must be accompanied by a legal guardian/parent.
Frequently Asked Questions
How much does it cost?
The cost is $22.27+ tax per player, per hour. Minimum of 4 players needed with a maximum of 10 per lane.
I have less then 4 players, what are my options?
You can walk in with 1-3 players during any axe throwing session. Your lane will be open to the public meaning other players may participate with you and your group. Walk in space is not guaranteed and we highly recommend you call us in advance at 479-595-0055 to check availability.
Do you have a party package option?
We do! The party package is for 10 players and is $250+ tax. This will be 60 minutes of axe throwing and 30 minutes for a party area.
What are your hours for Axe Throwing?
Friday: 4:00pm-8:45pm (Final session starts at 8:45pm)
Saturday: 12:00pm-7:30pm (Final session starts at 7:30pm)
Sunday: 12:00pm-3:45pm (Final session starts at 3:45pm)
Should I make a reservation?
Yes, we highly recommend that your group make a reservation before walking in.
What should I wear to Axe Throwing?
For safety, no open-toed shoes or sandals are allowed in the throwing lanes. All participants must wear closed-toed shoes.
Can I bring my own Axe? 
No, only Modern Mission axes can be used at our facility.
If you don't see the day or time you prefer (or if the time shows as booked), please call 479-595-0055 or email info@modernmission.com.
Reserve now!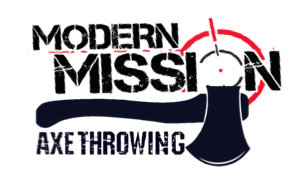 Axe Throwing - Total will be calculated at checkout
• Axe Throwing is for ages 13+ only• Waviers MUST be completed before playing• Minimum of 4 players needed to reserve a lane•